News
04.03.2011

EC consultation on a Roadmap for a resource-efficient Europe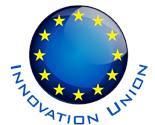 The European Commission is preparing a Roadmap for a resource-efficient Europe as part of the resource-efficient Europe Flagship Initiative of the Europe 2020 Strategy. They have launched a consultation to collect the views stakeholders on policy options for the Roadmap.
The details of the consultation can be found at http://ec.europa.eu/environment/consultations/roadmap_re_en.htm.
This consultation closes on 22 April 2011 and is open to organisations and individuals.